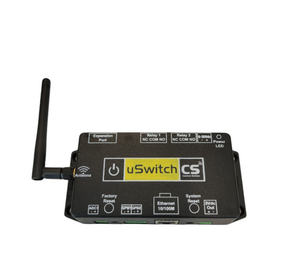 uSwitch CS XT: Wifi / Ethernet Web based I/O Controller with Antenna
Regular price $265.00 Sale
Control. Monitor. Reboot. Notify.
NEW!

uSwitch CS XT: Wifi / Ethernet Web based I/O Controller with Antenna
The uSwitch CS with an External Antenna - Expandable 2 Channel WiFi IP Relay and I/O controller to manage, sense, automatically reboot, and control any device, anywhere, anytime over LAN/WAN from any iPhone, Android, PC, or MAC
With new heights of functionality unique in the industry, the new uSwitch CS XT is all you need to control, monitor, reboot your devices, and now send event notifications by text or email. New features include a WiFi / ethernet access point, upgraded scheduling, and voltage monitoring.  Perfect for adding mobile connectivity, access control and monitoring locks, lights, pumps, alarms, valves, gates, and anything, anywhere. uSwitch CS XT supports a slew of multiple sensors including proximity, temperature, pressure, humidity, etc.  
"Plus, it is compatible with uSwitch Virtual Relays which allows the uSwitch CS XT to control hundreds of existing and new uSwitch/ uSwitch Pro relays over any existing LAN/WAN from single or multiple events.
uSwitch CS XT is technically advanced, yet simple to use, with no programming required. When coupled with the A-Plug adaptor, even a 12-year old can easily install it! 
Features and Benefits
A-Plug Compatible
Built-in Web Server/ Wi-Fi Access Point
Built-in Ethernet Port
Text and Email Alerts
Scheduling
Logging
Full Encryption including TLS/HTTPS
Peer-to-Peer (P2P) Communications
Voltage Monitoring
Relay/IO/Sensor Expansion Port
Up to 110/220V 5 Amp relay contacts
No programming required
Built in calendar for scheduling multiple events
Easy to install

Compatible with iPhone, Android, PC and Mac 
uSwitch CS is accessed over a secure Wi-Fi network or from any wired or wireless network supporting the secure HTTPS protocol, over VPNs, or home, industrial, and business networks. It can run stand-alone, over the local network and through the cloud. It may also be accessed via custom third-party applications through its API. The possibilities are infinite.  What will you do with uSwitch CS? 
The Perfect Controller, Watchdog, and Much More
uSwitch CS XT also supports Peer-to-Peer, secure communication so that an event at one uSwitch CS XT can simultaneously trigger events or controls at multiple satellite uSwitch CS sites. For instance, a single push button or alarm sensor can trigger thirty-two (32) access controls points opening or locking down a campus/facility, setting off satellite alarms and simultaneously alerting monitoring stations and/or appropriate individuals via alarms, email notifications and triggers. Further, Peer to peer communication is daisy chainable to virtually an unlimited set of endpoints.
uSwitch CS XT contains a Wi-Fi (802.11b/g/n) radio, an RJ45 Ethernet connection, two high power electro-mechanical relays, two GPIO(s), an analog input, a hardware Real-Time Clock, 5Vdc output, expansion port, an embedded webserver, control application and boot loader for Over the Air (OTA) upgrades.
Specifications
Relays have Normally Open (NO) and Normally Closed (NC) Contacts each capable of switching max:
12VDC/10A
24VDC/10A
125VAC/5A
250VAC/3A
Auto Ping
Watch Dog Unit can Ping 3 different IP Address/URL to confirm connectivity Selectable auto reboot based on Ping Response Supply Requires external 12 volt DC / 500mA power supply 24v DC 500 MA version also available
Operation Range
Industrial (-20°C to +80°C)
Standby current
(Relays OFF) - 58mA One Relay on - 92mA Both Relays on - 126mA
Dimensions
105 mm / 51 mm / 20 mm
Defaults
IP address: 192.168.1.199 Subnet Mask: 255.255.255.0  
Documents and Downloads
 
uSwitchCS Marketing Materials
PDF will appear in new browser window
How the uSwitch and uSwitchPro Work